Vegetarian Chili with Quinoa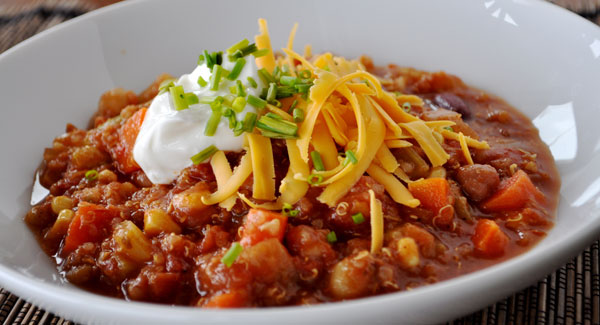 During the 2002 winter Olympics I had the opportunity to help a very prominent caterer (or so he told me he was) out of Phillidelphia yet I don't remember his name. We cooked for a rather large group of bankers and yet I don't remember where they worked either. Since I hadn't done any catering at this point but thought it was a business I thought I'd like to get into, I jumped at the chance to get my hands dirty and in the kitchen. I worked something like 200 hours over the course of a few weeks. (No wonder I don't remember anything.) Looking back, I'm confident those couple weeks were what made me become a caterer myself. I really fell in love with the work. I didn't like the actual guy I worked for (he was bossy and a jerk) but none the less, I learned a lot from him and those few weeks cemented in my mind that I was most definitely meant to cook for people.

I cooked more than I'd ever done in my life and walked thinking about food differently than I ever had before. One of the best things made that week was a vat (yes, vat. We were cooking for hundreds) of vegetarian chili. Hardly anything to get excited about. But this was truly the best veggie chili I'd ever had and quite possibly the best any kind of chili I'd ever had. I don't remember the recipe exactly but I remember that he added a jar of Heinz chili sauce and a crazy amount of dried spices. For years, I tried to duplicate it and for years I got close but not quite right. I finally gave up and stared to make it my own. Replacing his barley for quinoa and one time I added curry instead of cumin (by mistake) and you know what? It was perfect. Curry is a weird ingredient for chili but trust me when I tell you it works.
So almost 10 years later, here is my version: a meal-in-a-bowl loaded with vegetables, beans and quinoa.
This chili can be made ahead as it just gets better over the course of a few days. It also freezes really well. Now that I'm a "real" caterer (what ever that means), I make it all the time for my clients getting rave reviews every time. So thank you, man who's name I can't remember, for the amazing opportunity to cook for a bunch of bankers who I can't remember where they worked, your chili was awesome.
Happy Cooking!
Print
Vegetarian Chili with Quinoa
---
Description
This award winning (yes, it is!) chili is warming, filling and meat eaters alike will be satisfied. It truly is one of the best veggie chilis I've ever had!
---
Ingredients
3 tablespoons olive oil
1 cup diced white onion (1 small)
1 cup diced celery (4 stalks)
1 cup diced carrots (3 medium)
1 cup diced zucchini (2 small)
8 oz mushrooms, stemmed, diced
4 cloves garlic, crushed
1 cup corn, frozen or fresh
1 teaspoon ground curry powder
1 teaspoon ground cumin
2 teaspoons chili powder
1 teaspoon dried oregano
1 teaspoon salt
1 teaspoon ground black pepper
1- 15 oz can garbanzo beans, drained
1- 15 oz can lentils, drained
28 oz can crushed tomatoes
12 oz jar chili or cocktail sauce
2 cups water
1 cup COOKED quinoa
---
Instructions
In a large stockpot, heat olive oil over medium heat.
Add onion, carrot and celery. Cook 2-3 minutes. Add zucchini and mushrooms. Cook 2-3 minutes longer. Add garlic and corn and cook 1-2 minutes.
Add curry, cumin, chili powder, oregano, salt and pepper. Stirring constantly, cook vegetables another 5 minutes or so.
Add drained garbanzo beans, drained lentils, chili sauce, crushed tomatoes and water. Bring to a boil; reduce heat to low and simmer 10 minutes.
Add cooked quinoa and cook another 10 minutes.
Serve as is or top with shredded cheese, sour cream and minced red onion.